With You From Start To Finish
In addition to our world-class timing service, TSL are able to offer integrated software and hardware packages.
If you are buying our standalone software or hardware, you can be confident you will be receiving the same quality of products which form the basis of our renowned timing service.
As part of the services we offer, you can expect to receive professional and thorough installation; with ongoing maintenance and repair, should any equipment need it. Our skilled timing technicians will use their expertise to advise and guide you every step of the way and work alongside you throughout the installation process. Continuous support is always to hand, should you need it; as we're only a phone call away.
Full-Featured Software...
Our extensive knowledge as timekeepers uniquely positions us to develop software packages that are more than capable of dealing with the most complex and demanding events. TSL's world-renowned Timing Suite has a proven track record amongst many national and international organisers including FIA, World RallyX, TOCA, MSVR, BARC, BRSCC and MGCC.
It incorporates a broad range of innovative features into an intuitive, easy to use collection of applications that make running your event straightforward.
Configurable Timing Points – We understand that all circuits have different layouts. The TSL Timing Suite gives you total control of the location and attributes of the timing lines on track and in the pit lane; be they sectors, speed traps or control lines.
Multi-User Support – Large events often require a group of timekeepers to work together. TSL Timing Suite's ability to run simultaneously on multiple workstations enables several users to perform different tasks at the same time, allowing the whole team to be more productive.
Multi-Discipline – Regardless to the nature of your event, you need to know the software you use is flexible enough to withstand a diverse amount of disciplines. Our adaptable setup guarantees that you can cater for a variety of customers' needs; with the likes of races, sprints and active sports; supported.
Powerful Report Generator – Delivering clear, informative reports is essential to any sport. The software package comes bundled with a selection of detailed templates as standard for classification, lap charts and start grids; to name just a few. Should you want to add your own personal touch, this is easy to do with the integrated designer.
Finish Line Camera – There are often times when a finish is so close, deciding a winner can be difficult. Our finish-line camera can remove the doubt by capturing the crucial moment, showing you the definitive outcome.
Multitude of Add-Ons – To compliment the extensive set of timekeeping tools that make up the core of the timing suite; we give you the option of expanding your feature set with a wide selection of additional components to enhance the service you can offer to your customers. Race Control Messaging, Pit Stop Monitoring, Live Timing and many more are available for you to choose from.
Support for Industry Standard Hardware – Whether you have a brand new installation from TSL, or existing infrastructure already in place; our software is designed to work seamlessly with leading manufacturers; for example MyLAPS, TAG Heuer & ALGE timing equipment. This gives you the satisfaction of knowing there won't be any unnecessary expenses for new hardware.
The core of the TSL Timing Suite consists of a small number of important programs, each responsible for a key role in making the system work. This modular design makes the whole system extremely reliable and able to run for days at a time.
With all of this in mind, you can be safe in the knowledge you will be using the best, cutting-edge system that delivers above and beyond your expectations.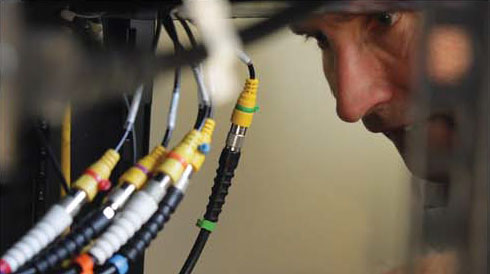 ...coupled with Bulletproof Hardware
Our wide range of hardware has been intricately designed by experts, to give you a complete solution that works hand-in-hand with our outstanding software, or those from other companies.
Timing Rack
We are able to offer you a state-of-the-art rack installation service, which boasts a plethora of features:
Control Line Timing – Having a start and finish line is essential to timing as a whole. Our control line timing unit brings together the necessary items into a compact rack-mountable chassis.
Display Output Ready – All of our timing racks come pre-installed with the equipment required to output multiple high definition screens of information over an RF or composite video feed around your venue.
Remote Power Management – With our smart web-based power switching module, you can remotely power-on and power-down other system peripherals; useful for situations when timekeepers aren't able to gain local access.
Uninterruptible Power Supply – Power is provided through two surge-protected UPS (Uninterruptible Power Supplies) giving you peace of mind and ensuring any loss of power will not halt proceedings.
Reliable Network Infrastructure – Each timing rack comes complete with a network switch, providing connectivity to remote timing points around your circuit.
Intermediate And Speed Traps – As well as the control line timing, we can add multiple timing points.
We can also supply loops, decoders, beams and other important hardware separately, available on request.